Ladle Beam
  

The Ladle Beam is designed to carry single ladles by two laminated hooks (so called J-hooks).

The beam is robustly engineered for heavy duty application to meet the high requirements of foundries.
Furthermore, any load can be attached by strap or by rope to the beam's free rotating crane hook.

The beam itself is suspended to the crane trolley either by hooks or sheave blocks.
Customised suspensions are available on request.
Available Options
Customised suspensions are available on request
Suspension for free hook lead-in, thus no floor personnel required
On request, beams can be equipped with different suspension attachments to transport additional loads
Pictures of some options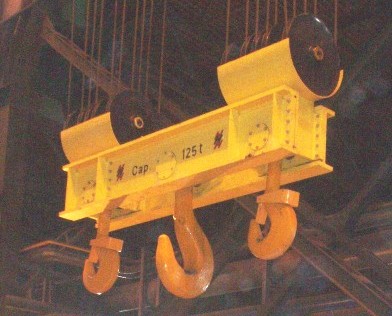 Beam with free rotating crane hooks Cap. 125 t
Technical Data Sheets
Please fill-in the contact form to request the technical data sheet