Dragline Slab Tongs
 

The Dragline operated Slab Tong is designed to lift either one or several slabs simultaneously, in a horizontal position.
The tongs are robustly engineered for heavy duty application to meet the severe demands of steel mills.

The crane operator controls the entire lifting process from the crane cabin.
The preposition of the scissors is actuated by the hoist on the crane trolley.

The suspension assembly is designed to accommodate standard crane hooks. The suspension is fixed by pull pins.
Customized suspensions produced on request.

See other Slab Tong Types using the menu here on the right.
Available options
Rotating unit
Suspension custom-made
Suspension for free hook leading - no floor personnel required
Electrical fittings
Radio control for the tong
Electrical provisions for fully-automatic lifting process
Height adjusting tables (manual, motorized)
Pictures of some options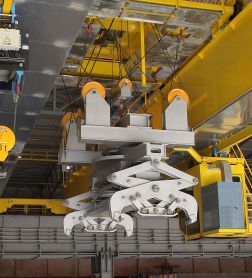 Dragline Slab Tong with Rotation Unit
Technical Data Sheets
Please fill-in the contact form  to request the technical data sheet